How does Rudolph know when Christmas is coming….?
He looks at the calen-deer.
It's that time of the year again – we're on the countdown to Christmas and we bet you are too. 2020 has been a very strange year, and I think we can all comfortably say people are looking forward to 2021 in a big way. With a vaccine on the horizon and things starting to get back to some level of normality, our customers have been planning on a return to work in some capacity in the calendar year 2021.
If you just want to see 2020 out and then think about things in 2021, we don't blame you. But if you've got to plan out your workforce return to an office or campus, here are some stocking fillers for your Christmas list.
We've assessed all the best workplace technology and here's what you should be looking at for any return-to-work scenario.
Get in touch for the best advice and prices on the below units – don't buy twice with the wrong advice!
Personal / Exec devices
If you're after a great portable speakerphone that is Teams certified, has great audio characteristics and also acts as a battery charger for your phone – look no further. The Sync 20 is new from Poly and retains their excellent audio performance for small areas and is portable for the mobile worker or exec who wants something quick and easy to use in their office or small meeting room. Portable, cost-effective and attractive.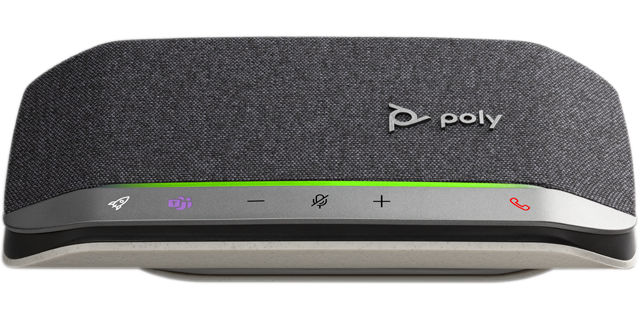 Small Office / Huddle Room
Massively popular this year and into the future is the concept of small drop in spaces, or huddle rooms – providing a quick and easy way for people to collaborate with remote or external contacts without tying up a big meeting room, or unable to have a sensitive conversation at your desk. We've found these to be slick looking, easily portable and deployable, running the Microsoft Teams Room for Android client. These are natively supported in Teams and also can be managed via the Teams Admin Center for complete visibility and troubleshooting. Popular for small meeting spaces, exec rooms and even a power worker in their work-from-home situation if they need a dedicated meeting device. The roadmap for these collaboration bars is strong with dual HDMI out and HDMI ingest coming to the platforms in the future.
We recommend the Poly X30/X50 Collab Bar as the go to item for these types of rooms.

Medium Room
Moving up to a larger set up and more permanent may be required for some workspaces in your organisation. These might be more dedicated meeting rooms where you need to have an easy to use solution to join Teams meetings, or Direct Join* with Zoom and Cisco WebEx. These spaces are your traditional meeting room spaces, with something resembling a 'codec' and some form of camera. This gives you some ability to add and modify your experience – add more cameras, add more microphones and speakers etc.
The simplest console + codec on the market for a medium sized room is the Logitech TAP – simply connect this to an Intel NUC hidden under a table or behind the display – and this turns your meeting room space into a simple to use console.
Couple this with a high quality Logitech or Poly USB video bar, you've got an inexpensive and easy to use solution for the bigger size meeting rooms. Logitech sell preconfigured bundles that require minimal cabling and IT support to get moving.
An alternative is a Front of Room solution like the Yealink A20 which is a collaboration bar with a simple Teams Console accessory
that minimises cabling (the Console can connect to the A20 unit via Ethernet (not Layer 2/3/IP)) and delivers a great audio and video experience at a cost-effective price. Keep in mind this is still a collaboration bar, so if you want expandable audio and video experiences, these will be limited.
Larger Room
The Crestron Flex Integrator Kit is hard to go past as a starting point for a larger room – with an insane amount of addons, extensibility and traditional Audio Visual options like room automation – the Integrator Kit is your starting point. Work with a trusted AV partner that understands the Microsoft ecosystem (like us) to get a fit for purpose build that incorporates the right camera technology, the specific audio experience you need and an appropriate budget. Crestron is a traditional staple in large enterprises and complex environments like Universities where the meeting and lecture experience is paramount, with ease of management and reporting standard around meeting room usage, patronage, hardware failures and monitoring.
Just Plain Cool
Poly RealConnect for Microsoft Teams
If your budget doesn't stretch to re-fit out meeting rooms, never fear. There is a simple and easy way to get your staff and colleagues into Teams Meetings using older legacy videoconferencing spaces. It's called Poly RealConnect for Microsoft Teams. This cloud-based service integrates with your existing Office 365/Microsoft 365 environment at a service-level, allowing you to insert "coordinates" into your Teams Meetings that older videoconferencing units can understand. This, and the One Touch Dial service, allows simple 'join' buttons on older videoconferencing gear to allow a single touch entry into Microsoft Teams Meetings. No dialling silly long strings and confusing email looking addresses. You'll need a partner to sell and configure for you, but once that's done its set and forget, just make sure you invite the room to the meeting!
Surface Hub 85"
Shipping now, the Microsoft Surface Hub 2 in an 85" size is something to behold. Sleek and sophisticated looking, this will light up any collaboration or executive space with an interactive meeting room experience. Not as expensive as you might think for the size and collaboration ability – look for these to hit the market late 2020 and early 2021.